Seems that the days are getting longer now.
The temperature is getting warmer and hotter. Normally my chocolates are fine without the cooler. When it is hot the chocolates has to be in a cooler spot. It's time for me to deploy my thermal bags to protect my chocolates.
During the earlier days of my vending i thought that here in the northern hemisphere it is always cold. Even if the temperature is around 20 degrees Celsius it has the tendency to melt the chocolates especially during noon time towards 3ish in the afternoon.

For the vending machine business, when the climate is getting warmer some under performing locations takes off.
You will see movement on the pop and beverages.
Most of my weekly locations the consumption of the beverages are the same demand when it is winter, no kidding. When you secure strong locations, the weather doesn't matter anymore. Sales will always be there summer or winter.
But of course summer is the best season for all kinds of beverages, normally your sales doubles. It is high time that you make sure that all your pop machines are 100% full and operating without any problems.
Summer beware too on your public locations.
A big plan in undertaking right now for the thieves. The days are getting longer. They are figuring out where to get extra money.
Normally this time the syndicate gang of thieves are getting ready for their operations. It was summer when my machines got visited almost every week and vandalized.
During summer i visit my machines located in the public more often to inspect if there are signs of attempted break ins.
I have noticed so many instances that my machine in hotels have so many dents on the sides.
This is the time also to make sure that if your machines are located in vulnerable areas be sure to get the high security covers and hasps installed.
Yes it is expensive to have them installed but it will secure your business and you can sleep better.
This is my personal experience on my machines which i have been running for a period of time already.
I have some machines also in another hotel which i have mentioned that the Plexiglas is always being shattered and destroyed. I have them all installed with heavy-duty wire mesh all around them which will be unbreakable.
Seems that the renovations and moving have stopped so far for my vending machine business. All is fine and stable for the moment.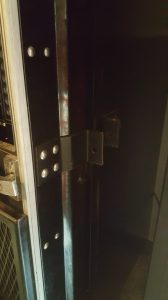 A lot of companies right now are done on focusing on renovations and are moving on other priorities on my observation.